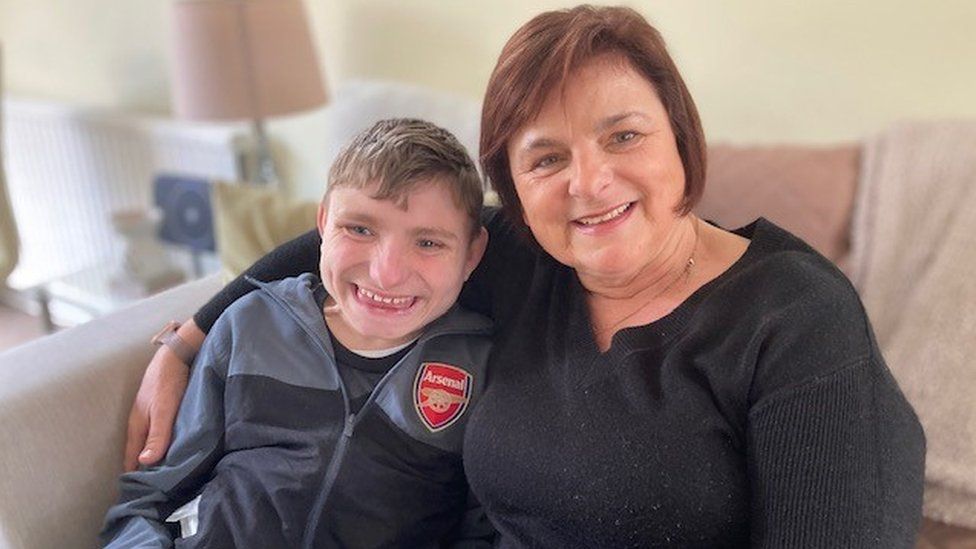 By Katharine Da Costa
BBC News
The mother of a terminally ill teenager has said she fears hospital delays may have shortened his life.
Seb Dean, 18, from Marlow, Buckinghamshire, has terminal cancer and is also one of only 11 people in the world with a rare genetic disorder.
His mother Hayley said an operation to remove his stomach was delayed because of his transition from paediatric to adult services when he turned 18.
Oxford University Hospitals NHS Trust said its processes had been improved.
The teenager was diagnosed in 2019 with extremely rare Mulvihill-Smith syndrome and has premature ageing, weakened immunity, learning disabilities and type 1 diabetes.
In February, surgery to remove his stomach was aborted after doctors discovered his cancer was inoperable.
Mrs Dean said her son's hospital care was disrupted when he turned 18 in August 2022 and was moved from paediatric to adult services in Oxford.
She said: "I just felt he got lost in the system. I feel if they'd kept him in paediatrics... maybe things could have got done sooner, maybe we would have had a different outcome."
She said investigations on his stomach were put back by two months to October 2022 while the surgery, scheduled for January, was delayed because of a disagreement between paediatric and adult doctors over who should conduct it.
Mrs Dean said: "Six months to a year [of remaining life] is what they said, which as a family we are absolutely devastated because he's just a young boy and we love him so much.
"I felt really let down. They need to look into this now to make sure this doesn't happen again to other families."
In a statement, the learning disability charity Mencap said: "We have heard from a number of families who have experienced issues transitioning within healthcare services, sometimes with tragic consequences.
"The priority should always be the best outcome for the person being treated rather than mandatory cut-offs."
Oxford University Hospitals NHS Trust said: "We have been working to improve the transition from children to adult care for those of our patients who need to do so, especially for our patients with learning disabilities."
The teenager's family has organised treats for him including a video message from Arsenal football star Bukayo Saka and a visit to London's West End.
His online crowdfunding page has raised more than £12,000 for further adventures.
Related Internet Links
The BBC is not responsible for the content of external sites.